(Owner)
I'm happily married to an amazing man, Jason, who's serving his country in the Airforce! I'm served the Airforce for 6yrs. We a
beautiful daughter, Kaylee & a sweet kitty furball Alley. I'm a stay at home Mom & run my own craft store (
MB's Treasurista
). I also own & run an amazing crafting social site (
Creating the Crafty Life
). I have been creating since i was a kid, but started papercrafting in 2004 which has led into
into mixed media, shabby chic & just about everything else I dabble in.
I love hanging with my family & friends, organizing, bargain shopping, cooking, doing for others & of course creating
. Another interest for me is horror
&
scifi movies & Kaylee seems to be just as interested as me!
I love being here & a part of the crafting community. I'm truly grateful that i get to do what I love every day & I hope to share, teach and inspire as I go.
Please check out her awesome creativity at:
Misty's Blog: MB's Treasurista Designs
My Shop: MB's Treasurista
(Designer Team Coordinator)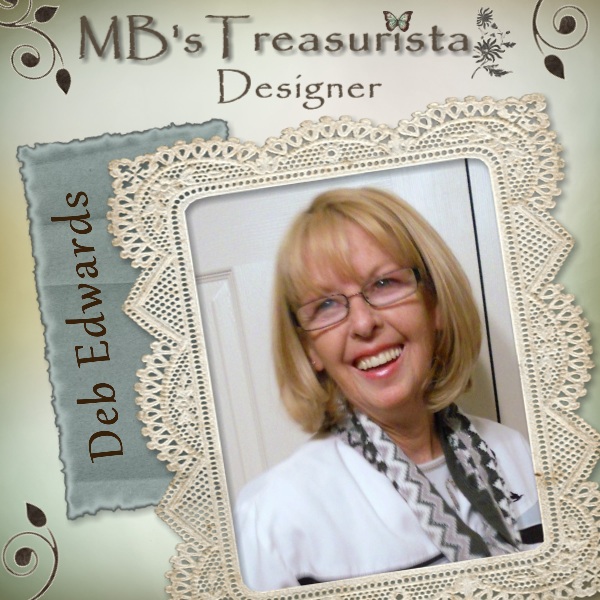 "I have been married to my husband for 34 yrs. We live in Texas, we have 2 children and 5 grandchildren. I have been crafting for as long as I can remember, but only been scrapbooking for about 7 yrs and paper crafting for 2 yr. I love to make paper and fabric flowers, mini albums,cards, 12x12 layouts. I also like to alter picture frames, and little boxes, really anything.. There is always something new to do and to learn in the crafty world. The things that are important to me are God, My Family/Friends, and Hoping that I may make a positive influence in someones life"
Please check out her awesome creativity at:
Deb's Blog: Crafty Texas Woman