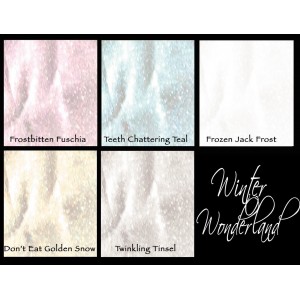 Brand:
Lindy's Stamp Gang
Product Code:
LSG-SS-WW
Reward Points:
0
Availability:
Out Of Stock

0 reviews
Write a review
Starburst sprays from Lindy's Stamp Gang will give you deep, rich, vibrant colors with a two-toned shimmer! These are all dye based products, which give them that vibrancy and can be used on any porous surface, (paper, wood, fabric, balsa, chipboard, etc). For different textures try pressing gently on the sprayer which will produce larger droplets, while pressing firmly will give you a fine mist.
Comes in a set of 5 colors, each in a 2oz Bottle
Instructions on how to use: Add HOT water 1/2 way up the bottle, (filtered preferrably, especially with the stains), stir with a stick & let sit at least 10 minutes then fill to "fill" line & shake. Shake before each use.. Each bottle comes with directions on it.
To make your creations extra vibrant, we've packaged this complementary collection of 5 Starburst Sprays at a discounted price.
Our gorgeous WHITE collection includes:
Don't Eat Yellow Snow
Frostbitten Fuschia
Frozen Jack Frost
Teeth Chattering Teal
Twinkling Tinsel
Available in a fine mist non-clogging 2oz sprayer bottle
Also available in a COLOR SHOT SET= wide mouthed 2oz jar with no-mess, easy access for painting.
Write a review
Note:
HTML is not translated!