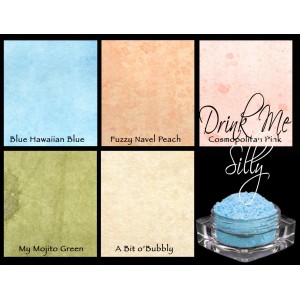 0 reviews
Write a review
Magicals (powdered paints) from Lindy's Stamp Gang combine the shimmery goodness of micas with a deep vibrance, all left in a handy powdered formula so you can get as rich and vibrant as you want and use a number of different mediums to paint with! Magicals are a unique product containing a pigment stain that activates with water and includes a burst of mica shimmer. Magicals work on fabrics, wood, ceramics, paper, cardstock, etc. Paint or highlight over chalks, watercolors, watercolor pencils, embossed images, markers, copics. Batik, fabric paint, wash on wood, paint on canvas, etc. Each package includes five 1/4 oz. jars of powdered paint in the following colors:
Blue Hawaiian Blue ("sky blue" with a subtle blue shimmer)
Cosmopolitan Pink (soft pink with a pink shimmer)
Fuzzy Navel Peach (the "perfect peach" with a golden shimmer)
My Mojito Green (the green you've been searching for with a silver shimmer)
A Bit o'Bubbly (champagne with a soft golden shimmer)
Write a review
Note:
HTML is not translated!