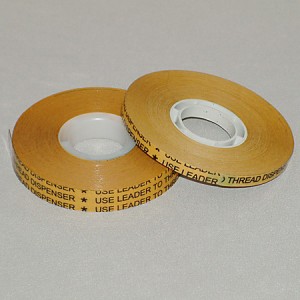 Product Code:
ATG-7502
Reward Points:
0
Availability:
77

0 reviews
Write a review
You will get 1 roll
1/4 in. x 36 yds
JVCC ATG-7502 ATG Tape is a permanent unsupported acrylic adhesive transfer film (pressure-sensitive adhesive pre-applied to a special release liner). It is used for picture framing, scrapbooking, product assembly, and for design and packaging prototypes. Has good adhesion to paper, most plastic films, and metal foils. Tape is acid neutral and is not soluble in water.
Glass stabilized solvent-based acrylic adhesive.
On a 50# gold paper liner.
Mounted on cores designed especially for use in tape dispensers (tape dispensing system allows for quick, clean, and easy application).
JVCC ATG-7502 ATG Tape, like all ATG tapes, is reverse wound on the roll so it is designed to be used in an ATG dispenser/gun (the 1/4" width fits in the 3M 714 Applicator/Dispenser and the 1/2" width fits in either the JVCC ATG1 or 3M 700 Applicator/Dispenser).
Write a review
Note:
HTML is not translated!