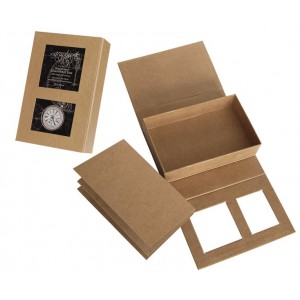 Brand:
Graphic 45
Product Code:
GR4500358
Reward Points:
0
Availability:
Out Of Stock

0 reviews
Write a review
The 5x8 Kraftboard Altered Art Box features a two window cover with a magnetic closure. Each versatile Art box includes a 4 panel accordion fold kraft Album tucked inside. Art Box size when closed is 5.25 x 8.125 x 2 inches. Album size is 4.75x7.75 inches.
**Please note, this Items takes an additional 3 days for shipping for custom ordering**
***This item can not ship with the following methods:
***At checkout please do not select these or you will be invoiced through paypal for additional shipping, and order will not procces until paid, Thanks
Write a review
Note:
HTML is not translated!