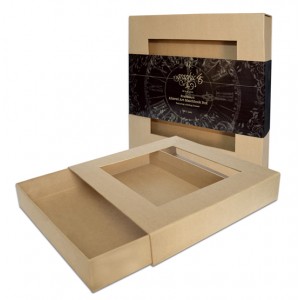 Brand:
Graphic 45
Product Code:
GR4500544
Reward Points:
0
Availability:
Out Of Stock

0 reviews
Write a review
Take the lid off creativity with these beautiful and versatile new Matchbook Boxes. These stunning boxes are made from high-quality Kraftboard. The new Graphic 45 Matchbook Boxes are perfect for altered art, shadowboxes, storage compartments, gift boxes and so much more! These gorgeous boxes work perfectly with any Graphic 45 paper collection or Staples product. Decorate and personalize these wonderful boxes to create a unique craft treasure. Ignite your imagination with the amazing new Matchbook Boxes from Graphic 45!
Box has a drawer that will slide out just like a matchbox. Box exterior measures about 12"x 12"x 2.25", "window" size about 8.25"x 8.25".
***This item can not ship with the following methods:
Small Flat Rate Box
Medium Flat Rate Box
Large Flat Rate Box
Flat Rate Envelopes (regular nor padded)
***At checkout please do not select these or you will be invoiced through paypal for additional shipping, and order will not procces until paid, Thanks
Write a review
Note:
HTML is not translated!